OPEN SIGN


Striking visual performance which would give any shop instant recognition in the high street. This piercing blue LED unit gives the choice of being permanently on or with the simple press of a button turns into a flashing/chasing sign which no one will miss. Supplied boxed, complete with 2 metres of chain, hooks, cable with plug and cable ties.
STEAMING COFFEE CUP


With the eye catching steam effect from this OPEN SIGN potential customers would be under no doubt that hot liquid refreshments await them within. Ideal for high street café's and eateries and is supplied boxed with 2 hooks for window hanging, 2 metres of chain, cable with plug and cable ties.
BARBERS OPEN SIGN


Complete with rotating barbers pole this uniquely designed unit will prove to be a must for the Barbers shop who want to get noticed. A simple press of a button changes the unit from an illuminated window sign to a flashing open unit that will not fail to attract. This attractive sign is available boxed complete with hooks for hanging, 2 metres of chain, cable, plug and cable ties.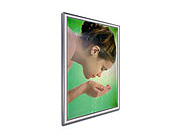 ILLUMINATED POSTER UNITS


Super slim single sided illuminated units for displaying transparencies and posters in all internal applications. These attractive units with a depth of only 25mm are ideal for use where an easy change advertising poster is required and comes boxed complete with protective clear acrylic front, all electrics and 2 metres of cable. Available to suit poster sizes 60" x 40" - 1524mm x 1016mm and 40" x 30" – 1016mm x 762mm
CIRCULAR LIGHT BOX


At 450mm in diameter this exterior aluminium projecting box is complete with electrics, moulded pans, stand off bracket and 3metres of flex. Powder coated to a silver finish the unit is perfect for that something "different" look. All the signmaker needs to do is apply graphics and fit! Box packed these units are a must for the shelf of all signmakers who are frequently asked for speedy turn-around on high street signage.